How can I collaborate with the PCRC?
The PCRC was established in large part to help overcome the many challenges of multi-site research because we know this research matters, and is necessary to advance the field of palliative care. There are many potential opportunities for collaboration, including:
Scientific Review / Guidance

Research Development
PCRC Sites
PCRC Standardized Data elements [SDEs]
PCRC-recommended instruments
Data sharing / Registry Participation
Investigator Development
Mentoring / Networking opportunities
Data Quality Assurance Audits
Statistical consulting
Caregiver Core
Measurement Core
Clinical Studies Core
Data / Informatics
Database development / Data Management
Site Training
Site Management
Site Finance
Grant opportunities

Step 1: Submit a Letter of Intent (LOI) to the PCRC Scientific Review Committee (SRC)
Interested investigators must first submit a letter of intent to the PCRC Scientific Review Committee using the PCRC Letter of Intent (LOI) form. Once both the PCRC Scientific Review Committee and Steering Committee approve a LOI, full protocol development will begin. Details around the process and steps are noted below.
For the PCRC, the LOI means you have a study idea that you think would align well with the PCRC, benefit from multi-site infrastructure, and are planning to submit a grant (click here for more information on grants).
Submission of the LOI is a pivotal step for the PCRC because it gives the SRC a comprehensive understanding of your study in order to evaluate the science, and enough information to allow the Steering Committee to evaluate the study in light of the strategic goals of the PCRC.
Approval of the LOI at the Steering Committee level ultimately influences whether the PCRC is able to provide a letter of support stating that it has the necessary infrastructure to successfully implement your study and start budget development (if requested)
Download and complete the Letter of Intent and submit to:
Step 2: Approval of the LOI
Step 3: Site Selection
FOA may require a Letter Of Support (LOS) from planned sites – check your FOA
PCRC will facilitate identification of pertinent study sites
After grant funding, if PI's selected sites are not available, PCRC will assist in identifying additional sites
Number of sites required for enrollment needs determined by the Statistical Analysis Plan and budget plan
PCRC will review Membership Database for potential subject population, study site PI and Site expertise
PCRC will connect PI with potential sites and study site PIs
PI will discuss study with study site PIs and obtain site LOS
Step 4: Budget Development (after LOI approval)
Following approval of the LOI by the PCRC Scientific Review and Steering Committees, the PCRC will work with the Principal Investigator to develop a budget related to collaboration activities.
Potential components of PCRC Budget are based on LOI, study schema and details of planned use of PCRC resources
The components of the budget are dependent upon the specifics in the LOI, study schema and details of planned use of PCRC resources
Once the budget is approved, the PCRC will create /provide all necessary grant package documents for PCRC sub- contract
Potential Budget Components
Site Payment budget on a per "participant" model - e.g. start up fees, study conduct, patient remuneration, etc.
Project Coordinating Center [PCC] Activities

Research development
Site management (training, support, communications, enrollment tracking, etc.)
Site Visits
Site finance / grant management (contracts, invoicing, payments, etc.)
Database / data management development /informatics
Assistance with DSM committees/boards Packet will include budget justification for PCRC components
Include in PI grant budget
Include applicable PCRC consulting activities to be using during conduct of the funded study in PI's budget; for example: Statistics, Caregiver, Measurement, and Clinical Studies.
PI provides details regarding planned PCRC collaborations in the LOI
PCRC documents commitments in LOS
NOTE: pre-grant submission consultation with PCRC Core resources does NOT require a budget – supported by PCRC U2C
Directs/Indirects
Check your Funding Opportunity Announcement (FOA):
If maximum budget total amounts include only "Direct" costs, Direct Costs include the PCRC sub-contract sub-agreement costs
Budget Example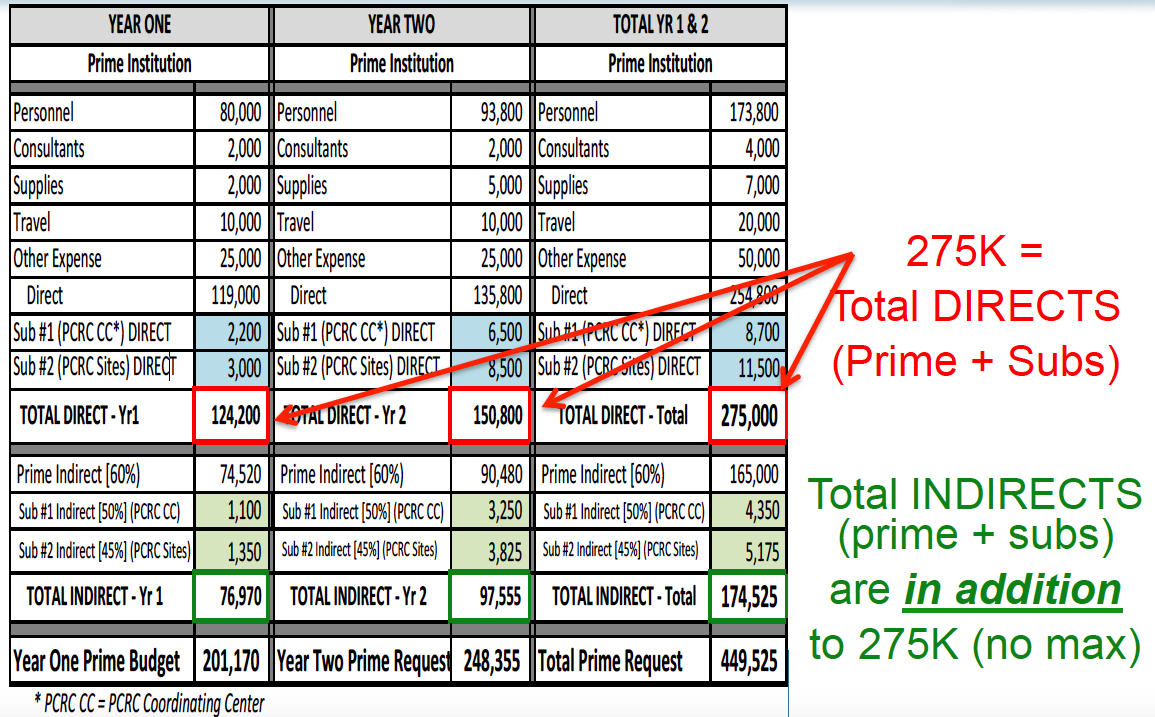 Step 5: Grant Submission
Following budget approval, the PCRC will provide all grant package documents based upon details in the Letter of Intent and planned use of PCRC resources.  This will include the following:
Subcontract Package with the University of Colorado (PCRC primary grant institution)

Scope of Work / Biosketch(s)
Budget / Budget justifications for the Project Coordinating Center activities
Budget / Budget justifications for Planned consortium [genralized for total number of sites and planned accrual]
Grant documents [Checklist, FCOI, Tax ID, Face page, etc.]

Biosketch(s) of PCRC Co-Chair and other relevant
PCRC key personnel (e.g. Caregiver Core Director) if
applicable
Letter of Support signed by the PCRC Executive
Leadership outlining your specific planned PCRC
collaboration.*
*Critical to NIH reviewers to demonstrate "collaboration"
Please contact us if you have questions at PCRC@ucdenver.edu.  We look forward to working together.